A common question we receive from those who don't own or shoot real steel is "Do GunSkins work on airsoft guns?". The answer is a resounding YES! Almost without exception, Airsoft Electric Guns (AEG) and traditional BB guns will look and feel like the real deal. Quite often the moldings, engravings, and sometimes the weight is made to replicate their lethal counterparts.
The internal mechanisms may differ, but the exterior is virtually identical. For this reason it is absolutely necessary for airsoft guns to come installed with an orange tip by manufacturer. This safety tip on the barrel is the most obvious indicator between plastic and real steel.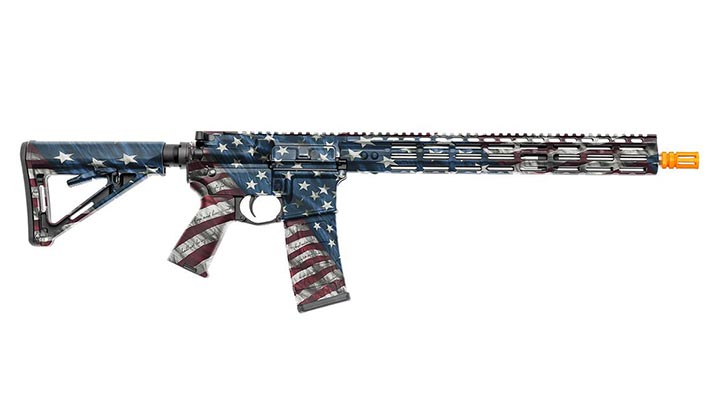 Airsoft guns are made to look like AR-15s, AK-47, pistols, rifles, shotguns, and more. For this reason all of our kit templates are compatible with any airsoft gun. The application process is going to be the same for a real rifle as it would for an airsoft replica. Since only the surface is covered, all of the pre-cut pieces will lay perfectly in place.
This is perfect for those who are not able to own firearms or their favorite types of firearms. Some states and entire countries have very strict gun laws, but airsoft is not considered dangerous and very popular for adults and teens alike. We have ties with very competitive airsoft teams located in Europe and Japan. GunSkins on their airsoft guns set them apart!
Concealment is just as important when playing airsoft as it is while hunting. The right camouflage can help or hinder your ability to hide from your opponent. Sometimes entire airsoft teams dress in matching camouflage, and GunSkins can help ensure the guns match the gear.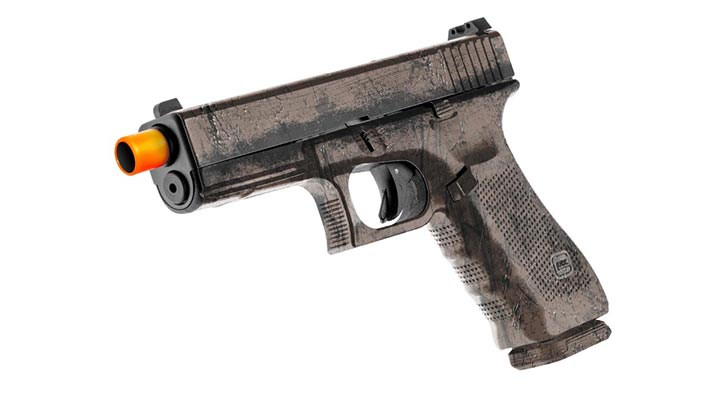 Alternatively, wrapping your airsoft gun is also a great way to stylize and personalize your weapon. We've got a variety of patterns to accommodate the outdoorsman, military enthusiast, and tactical buff. GunSkins are inexpensive and most kits can be installed in an hour or less. Best part of all, they're completely removable and will not tarnish the finish of your gun.
GunSkins are designed to work for airsoft and bb guns in addition to actual firearms. The kits are so versatile, you can wrap just about anything! If you are an airsoft player, or know someone who is, give them the heads up that GunSkins has them covered!