Step 1: Clean the Mags
Pistol Mag Skins are a cinch to install. But like with all other GunSkins wraps, success depends on how well the surface was prepped. Even brand new magazines come from the factory lightly lubricated and it needs to be scrubbed clean using a gun-specific degreaser. Rubbing alcohol helps remove any standing moisture, but it's not enough to cut through gun oil. Use a lint-free cloth to dry.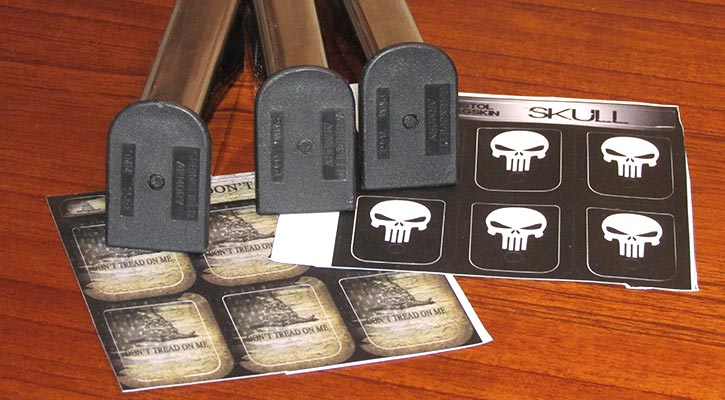 Step 2: Peel and Stick
Pistol Mag Skins are designed to fit 9mm and .40 caliber double stack magazines, however they will also work on the larger .45 cal mags. The kit includes pieces for the bottom of six magazines, plus an additional back slide plate cover. Peel them one at a time and position them centered on the base plate of the magazine.
There is a relief cut on the vinyl used to expose the spring pin for disassembly. These are commonly seen in Glock mags. If your magazine does not have one or is located elsewhere, simply leave the vinyl as is and it will cover the surface without a hitch. Each kit also comes with a small piece to cover the back slide plate cover, but only use it if it doesn't impede the striker if your specific pistol.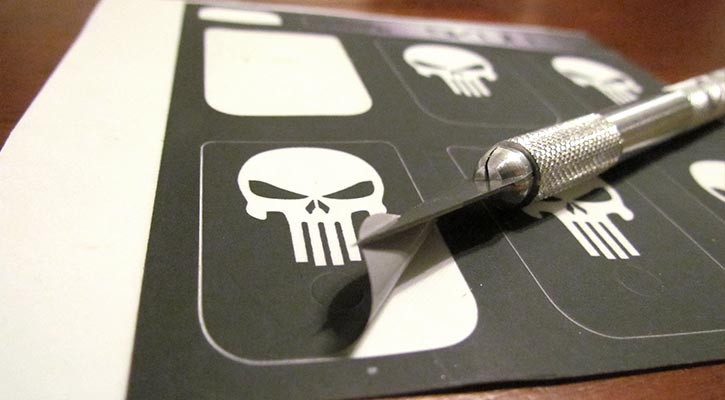 Step 3: Heat and Conform
Once you have the piece centered and positioned where you want it on the mag, hit it with heat from a blow dryer or heat gun and press firmly using your fingers. The vinyl will stretch when warm and that makes it pliable and conform to all edges and detail on the mag. If you don't like where the piece is positioned, you can peel it up and try again without worry.
Heat is what activates the bonding agent and sets the material for good. It won't peel off on its own unless you hit it with heat again on purpose and remove it yourself. Because the vinyl is a heat stretch, not a heat shrink, it allows you to press in and hug all the contours and detail of the surface, making it truely like a skin and not an ordinary sticker.