Step 1: Clean the Surface
AK-47s are notoriously dirty guns. They may be very reliable and popular around the world, but they build up grime and grease like no other. The vinyl will not adhere if there is even the slightest presence of gun oil or lubrication on the surface. That's why we recommend using a gun-specific degreaser to prep the gun, even as far as scrubbing it with a small brush.
Using rubbing alcohol is a great way to remove any standing moisture, but it's not strong enough to cut through gun oil. Even bran new AK-47s require cleaning as factory shipped firearms are lightly lubricated for preservation. If your gun is not new, perhaps more than one round of cleaning may be required to get the job done.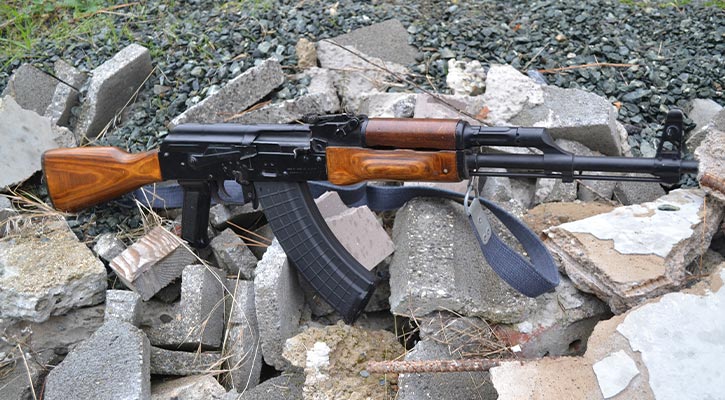 Step 2: Peel and Stick
AK-47s can vary from model to model. Our kit template comes with precut pieces for a standard issue stock. Peel these pieces one at a time and lay them in place. If you don't like how it's positioned, simply peel it back up and try again. Once you have it where you like it, hit it with heat and press with your fingers to work it into place.
To get the definition to really show through the vinyl, hit it with heat and use a piece of foam or sponge to press the material down and hold it until it cools. A hand squeegee is also helpful when running the vinyl along flat surfaces and sharp edges where fingers can't quite reach. Pieces like the buttstock and forend require custom installation because these vary in shape and size from model to model.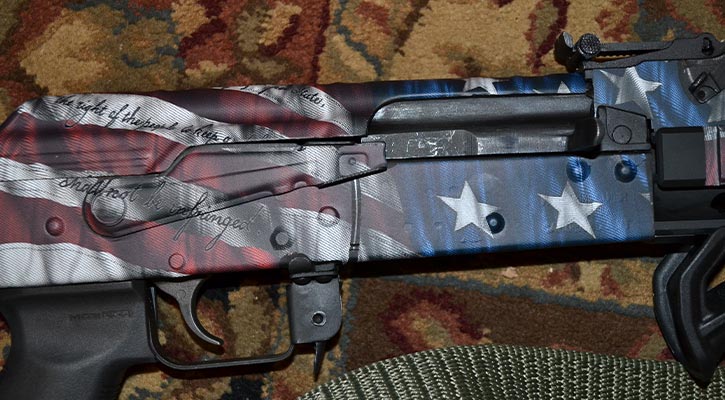 Step 3: Heat and Trim
Use a sharp hobby knife to trim the material away for overlap or to reveal any hollow areas for ventilation. Having a heat gun or blow dryer is nesecary in order for the vinyl to stretch and conform to such unique shapes. The material becomes malleable when warm, which is what allows it to fit the surface of the gun so well. If you encounter an air bubble, poke it with the end of your knife to release the air and then press down to re-seal it.
The premium vinyl is heat activated, which allows it to become pliable as well as also set it for maximum adhension. When all the pieces have been installed, run the entire gun with heat for at least ten minutes, pressing the material into place and working the detailed areas with your knife and hand squeegee. This post-heat phase is crucial and will determine the longevity of the wrap. Take your time and make it look just the way you want it to!