Step 1: Clean the Surface
Lubrication is great for the safe operation of your AR-15. Gun oil is a natrual process of maintenance but it does present a problem when trying to cover the surface of the gun with a vinyl wrap. Any dirt, grease, and lubrication that comes between the gun and the vinyl will cause problems and prevent adhesion.
Use a gun-specific degreaser to remove all gun oil. Even factory new guns contain lubrication, even if they've never been shot before. Rubbing alcohol is great to remove any standing moisture, but alone isn't strong enough to cut through the grease. Use a small brush to scrub into the details so that the material will hold and comform to every nook and cranny.
Use a towel or let air dry. Sometimes more than one round of cleaning is neccessary to ensure best results.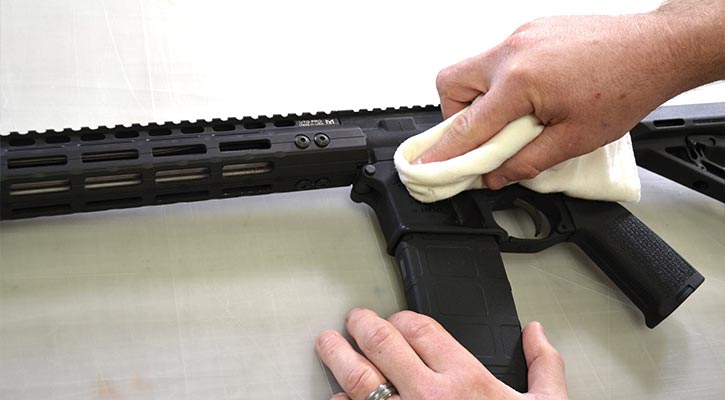 Step 2: Peel and Stick
The AR-15 Rifle Skin comes with precut pieces that are designed to fit the upper receiver, lower receiver, grip, magazine, and picatinny rails. AR-15s are known for their modularity, swapping components, and custom parts. Our template is designed to fit most standard issue stocks but even if you have something a little more unique, chances are the vinyl can be stretched and pressed in to fit your specific model.
The kit labels the pieces in the order of installation. While not absolutely neccessary, it will help to install them in order. If a piece is not fitting right or contains a wrinkle, simple peel it up and try again. The vinyl is very easy to work with. Take your time and you will see better results for it.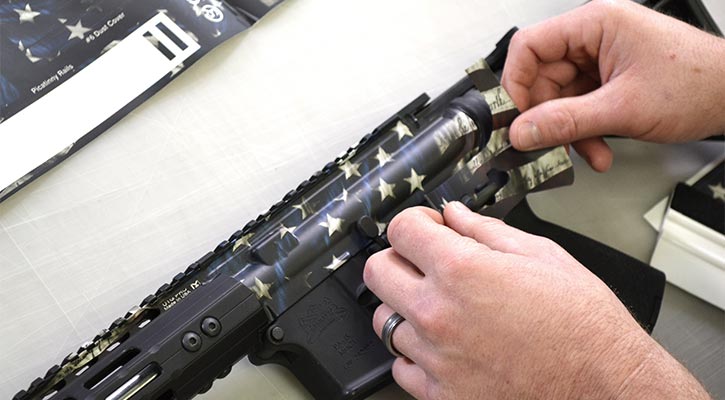 Step 3: Heat and Trim
As you install one piece at a time, it is recommended to use a heat gun or blow dryer to heat up the material so that it conforms to the shape of the gun. Using your fingers to press into the details will make any etchings, serial numbers, or pins show through. In some cases, as with the forementioned pins, it may be neccessary to trim the vinyl to ensure moving pieces are not hindered. Use a sharp hobby knife with plenty of extra blades, you're going to need it!
Parts of the rifle, including the buttstock and the forend, will require a custom installation. Every gun is different, but the kit comes with enough bulk material to wrap even the most tactical handguard. Wrap these in pieces instead of forcing a single sheet to wrap over the entire thing. Take your time and work out the details as you go, heating and trimming on a regular basis.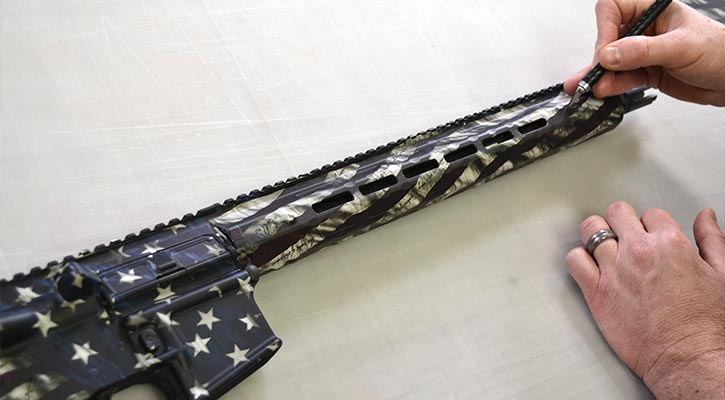 Step 4: Post Heat
Once the entire surface is wrapped to your satisfaction and the pieces are trimmed out, it's important to go over the entire weapon one last time with your heat gun. This will remove any frazzles edges from the cuts made and also reveal any air bubbles that may need to be taken care of by poking a small hole with the tip of your blade.
The heat activates the bonding agent in the vinyl and sets it for the long run. Use a towel, sponge, or piece of foam to press down on the surface as you heat so that every crevice and edge is covered properly by the vinyl. You should spend at least 10 minutes on this step, it can make all the difference. Once the material is cooled the gun is ready to go!