Step 1: Clean the Surface
Nothing sticks to dirt. This is why cleaning the surface of your gun is so important. The picatinny rails in particular are prone for grime and grease buildup. We suggest using a gun-specific degreaser and a small brush to scrub well along the edges of each and every notch. It may be tedious, but the end result will be better for it.
Rubbing alcohol alone isn't strong enough to cut through gun oil, but it is helpful as a last step to remove any standing moisture. Make sure the rails are completely dry before proceeding to install the vinyl.
Step 2: Peel and Stick
Rails Skins are designed to save you time and a headache. While it's possible to wrap the picatinny rails with a single sheet of vinyl, trimming each notch to fit, the Rail Skin is precut and easy to install. While simple in form, it still requires careful precision because of the small surface area and the many notches.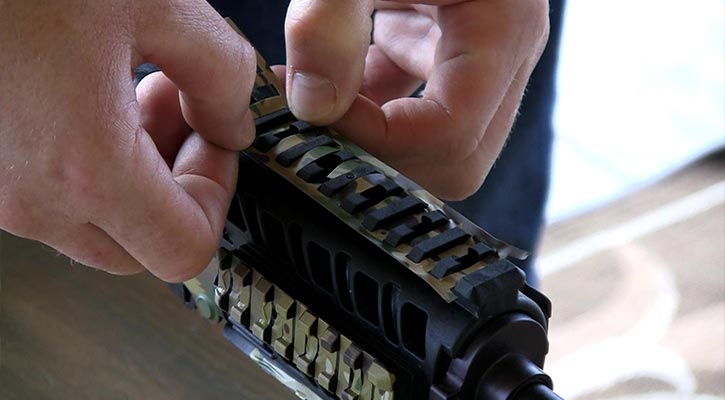 Peel off the outer piece off the backing like a ladder and place this piece in between the notches. Start from one end and work your way toward the other, pressing in with your fingers. As long as the piece is place, you can come back afterward with a hand squeegee or other small, flat plastic edge to run along the insides of the notches to press the vinyl down and under the edges.
Step 3: Adding the Top Pieces
The other half of the Rail Skin includes the individual little pieces for each rail. Use the tip of a hobby knife to help peel off these small rectangles and then install them over the top of each notch, in sequence if you can so that the pattern lines up for a seamless look. This portion will feel very repetitive, but it will all look amazing in the end.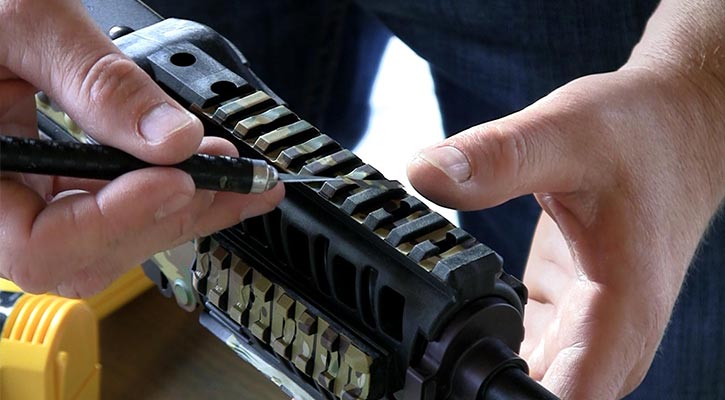 Step 4: Heat and Press
Once all of the pieces have been installed, hit the surface with heat from a blow dryer or heat gun. This will help make the vinyl pliable and able to stretch if needed. Press down using your fingers or a hand squeegee to ensure the material is touching the correct edges and holding strong. If you have a piece of foam or a sponge, it helps to heat and press in using this soft material so that it envelops and presses everything into place, especially where fingers can't reach.
Continue hitting the surface with heat and working the detail as you please. The heat is what activates the bonding agent and seals the deal. Once the vinyl is cool, the process is done and gun is ready for use!