Step 1: Clean the Surface
The success of a vinyl wrap depends on how well it adheres to the surface. This is why prepping the scope by removing all traces of lubrication is so important. The scope may not receive the kind of handling like the rifle does, but it would surprise you how much gun oil can be found even for brand new optics, fresh from the factory.
Hit the surface with a gun-specific degreaser and use either a towel or a small brush to work out all of the dirt and grease. Any area that will be wrapped is a good candidate for cleaning. It's up to you if you want to wrap the scope mounts but it couldn't hurt to clean these too.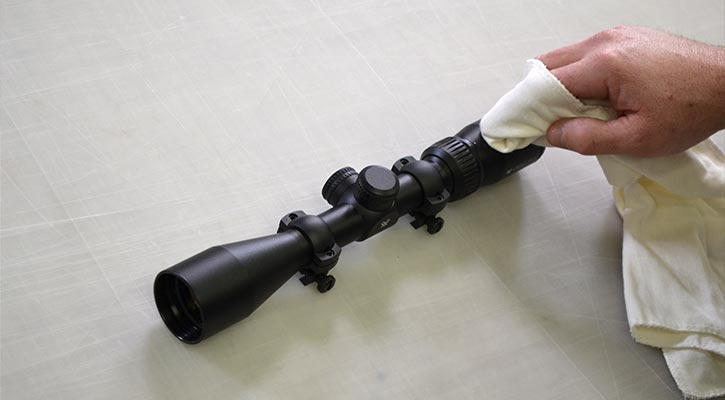 Step 2: Measure and Trim
Scopes come in all lengths and diameters, so having a single kit to fit them all requires a generic approach. That means it's up to you to cut out the vinyl and install them in pieces. The cylindrical nature of the scope means that using strips will work very well, installing from one end to the other, horizontally. When measuring the different sections (ie: bell, knobs, etc) always add a little more to your measurements. It's better to have more than not enough. You can always trim the excess.
Installing on the bell can be tricky. We suggest starting at the base because you can always stretch the material to line up at the top. Doing it the other way leads to too much vinyl at the base, which will cause wrinkles. Take your time, press firmly, and stretch the vinyl as you work around the curve and back to the other side, overlapping and trimming the left over. It's easier if you start in the middle and work your way on both sides.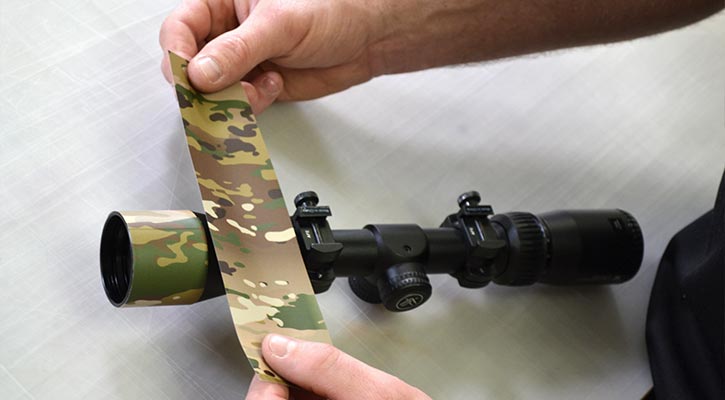 Step 3: Heat and Press
While stretching, it will help if you add a little heat. This makes the vinyl malleable. For the caps, we suggest removing them and wrapping them using two pieces, one for the rim and the other for the top. Make sure to trim the vinyl that covers the adjustments so that you can twist and turn them without disruption. To make the grip show through, heat the vinyl and press with a piece of foam or sponge to allow the vinyl to conform to the detail.
When all the pieces have been installed, continue heating and pressing firmly with your hands. The heat activates the bonding agent in the vinyl and will help it set for the long haul. Press in when warm to bring out the detail and hold it until the vinyl cools. Doing this will prevent is from resetting because once the vinyl cools, it keeps the shape. Once the scope is cool it is ready for use!