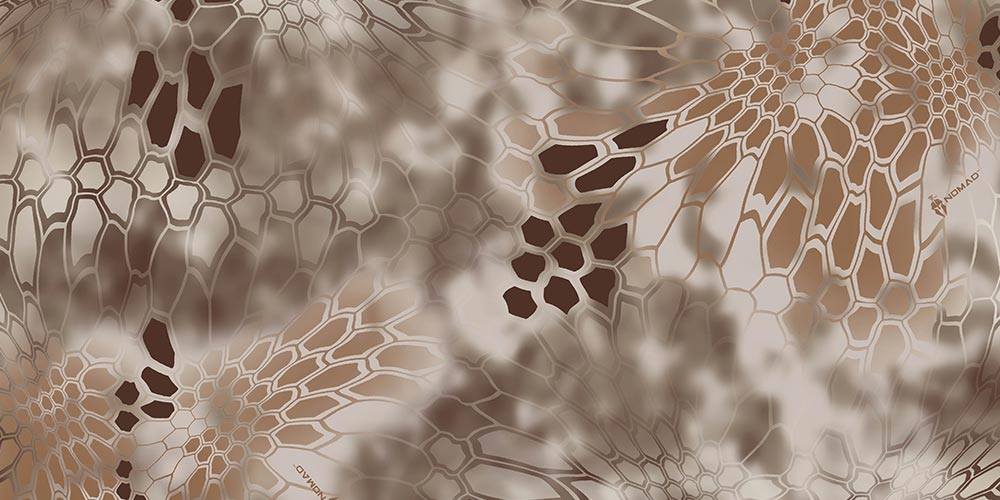 Nomad is a fitting name for this dry and arid camouflage pattern from Kryptek Camo. Like a wanderer in the desert, Nomad's design contains movement everywhere and is very much non-linear. Kryptek's iconic honeycomb design contains dark browns and light tans, set against a subdued, sand-evoking backdrop. Nomad is described by Kryptek as being:
A theater of operations that is harsh and desolate requires deception of a certain type. Kryptek Nomad serves when the surroundings are barren and the environment is hostile.
Unlike the popular Highlander pattern, Nomad contains no lush or vivid colors. The palette of color is limited to dry desert colors. The tones used in Nomad call to mind how harsh an environment can be without any water or shelter. Nomads are known to be resourceful and they are survivors. If you stay still for too long, you'll be a goner for sure.
Nomad was designed for outdoor use. For accurate color and tones, please view the pattern in natural light.
GunSkins Nomad kits have been known for containing unexpected tones when first opened. It has been noted that the brown and tan tones appear to have a pink color to them. This is a result of the vinyl laminate finish and it affects the color of the print when viewed indoors, especially under incandescent bulbs. Nomad's true colors come about when the kit is taken outside in the natural sunlight. This phenomenon is unique to vinyl applications and it's nothing to worry about as our products were intended and tested primarily for outdoor use.
Kryptek Camo's Nomad camouflage pattern is a tactical camo by nature, but it also works well for hunting applications. Additionally, GunSkins are also effective for airsoft and paintball guns too! When you need to blend in and conceal your otherwise bold and black firearm, GunSkins will protect you in camouflage. Rely on GunSkins for the physical protection of your firearm and Kryptek Camo for the effective concealment solution.