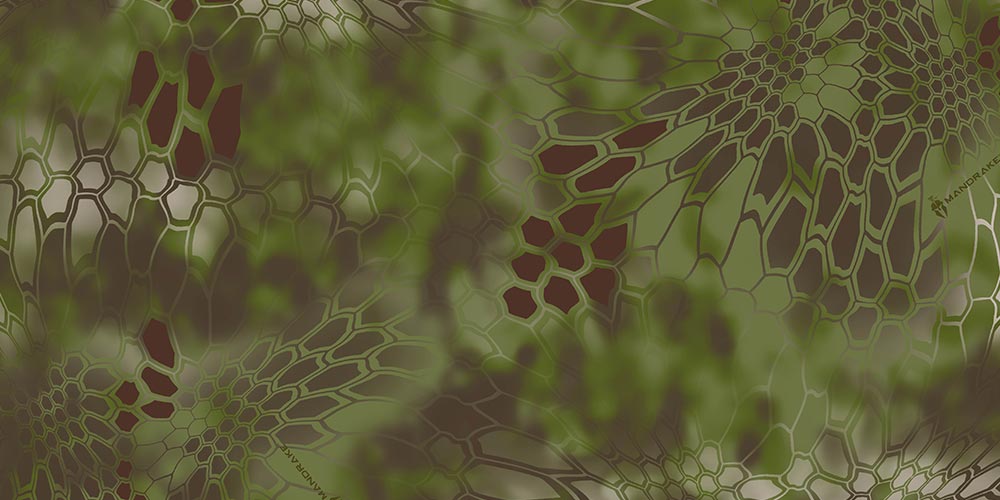 Mandrake™ is the name of Kryptek's woodland designated pattern, which contains strong saturated colors to match lush, tropical environments. When compared to the entire line from Kryptek Camo, Mandrake stands out as having the boldest color and striking appearance. Regardless of application, Mandrake is a camouflage pattern worthy of consideration. Kryptek describes Mandrake with the following:
"Only the strong survive beneath the canopy where the shadows deepen and the surroundings are dense. Kryptek Mandrake™ is designed for those regions where success or survival depends on your ability to become one with your domain."
One of the reasons that Mandrake is so popular is because it utilizes colors that have proven to work with traditional hunting camouflage and implements it for a tactical advantage. The typical North American hunting environment consists of wooded areas where green and brown are dominant. Mandrake not only contains the right colors, but the variation in shades and hues also allow for pattern to offer the same level of concealment regardless if the user is bathed in sunlight or deep in shadow.
Tactical camouflage can work just as effectively as traditional hunting camo.
Mandrake looks great when used to wrap any gun. We've wrapped our Springfield XD 9mm Pistol, Mossberg 500 Shotgun, and AR-15 Rifle to name a few. As a matter of fact, we haven't found any gun that didn't look sweet with a Mandrake camo wrap. Even if someone hasn't enlisted in the armed forces, it's nice to know they can show off their guns and gear with the best tactical camo on the market.
Kryptek Camouflage had humble beginnings in offering an alternative camouflage to the hunting market back in 2011. They quickly gained in popularity and in 2012 were even nominated to become the new official camouflage for the US Military. There's no doubt that if you choose Kryptek Camo, whether Mandrake or other pattern, you will be covered with camouflage that has the same tactical advantage as the pros.